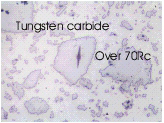 Postalloy® Sintered Tungsten Carbide
Tungsten Carbide is one of the best materials to protect equipment against abrasion, especially for industries such as construction, mining, land clearing and wood or debris waste, and forestry wood grinding. The most efficient method to deposit tungsten carbide is to use the tungsten carbide embedding process using Postle's vibratory feeder, combined with our Sintered Tungsten Carbide Grit and weld matrix wire, PS-98.
Postle's Sintered Tungsten Carbide Grit is crushed and carefully screened to meet our specifications to provide necessary wear protection in areas of high abrasive wear.
Please visit our dedicated Tungsten Carbide Hardfacing website here for more information.
Specifications
Product Type
Sintered Tungsten Carbide
Applications
Heavy duty earth moving and mining vehicles
Trenchers
Tunneling machinery
Mining machinery and equipment
Bulldozers
Power shovels
Excavators
Dredging
Long wall continuous miners and draglines
Landfill compactors
Tub grinders
Land clearing machinery and equipment
Waste and debris recycling
Forestry product grinding
Debarkers, chippers and wood mulchers
Welding Parameters
Welding Procedure:
Typically used with a weld matrix wire such as PS-98.