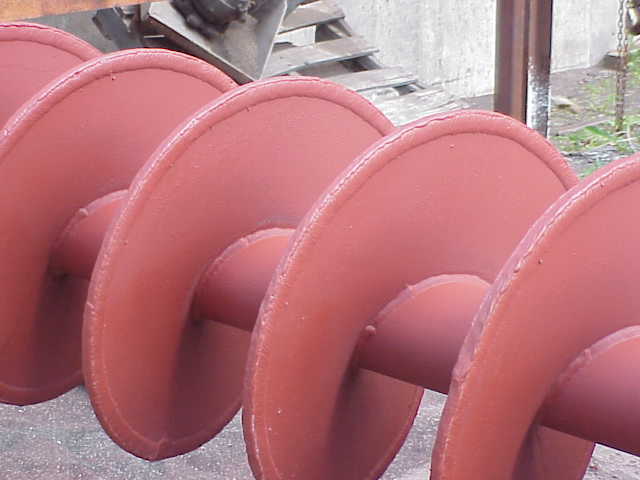 Postalloy® Flitewear 4
Postalloy® Flitewear 4 is a medium carbon, chromium hardfacing alloy that produces a semi-austenitic matrix with uniformly distributed chromium carbides. Recommended for applications involving moderate abrasion with heavy impact. Weld metal is tougher than conventional chromium carbide alloys with fewer stress relieving check-cracks. Flitewear 4 can be applied to carbon, low alloy, and manganese steels.
Flitewear Hardfacing wires have been engineered to improve the efficiency and longevity of screw conveyors, augers, rendering screws and other similar components. They are designed for use where environmental and production issues are unique. They offer excellent welder appeal and out-of-position welding capability. Bead configurations can vary from stringer to wide weave patterns. Welding arcs are smooth and quiet; smoke levels are extremely low; weld deposits are slag free and spatter-free.
Specifications
Product Type
Metal-cored
Gas-shielded
Open-arc
Deposits are slag-free
Applications
Foundation drills
Post-hole augers flights
Brick and clay augers
Hollow stem augers and auger flights
Weld Deposit Properties
Additional:

Cannot be flame-cut
Deposits will cross-check
Deposit Thickness:

3-5 Layers
Hardness:

50Rc - 55Rc
Welding Parameters
Current Type: DC Electrode Positive , DC Electrode Negative
| Volts | Amps | Diameter | Stick Out |
| --- | --- | --- | --- |
| 15-26 | 100-250 | .045" (1.2mm) | 3/4"-1"(19-25mm) |
| 20-25 | 160-300 | 1/16" (1.6mm) | 1"-11⁄4"(25-32mm) |
Welding Procedure:
While all sizes of Flitewear 4 will operate with or without a gas cover, you may find applications for .045 and 1/16 for which you prefer a shielding gas. If a gas cover is used, Argon/CO2 or 100% CO2 is recommended. This will cause amperages to go up by about 10% and the stick-out should be shortened. When welding out of position, use the lower range of amperages and voltages. In addition, a gas cover may be useful, especially when using a constant current power source and voltage sensing feeder.
Packaging Options
| Diameter | Standard Packaging | Standard Packaging Available |
| --- | --- | --- |
| .045" (1.2mm) | 25 lb (11.30kg) spool | 220 lb (99.80kg) drum |
| 1/16" (1.6mm) | 25 lb (11.30kg) spool | 55 lb (25kg) coil, 220 lb (99.80kg) drum |