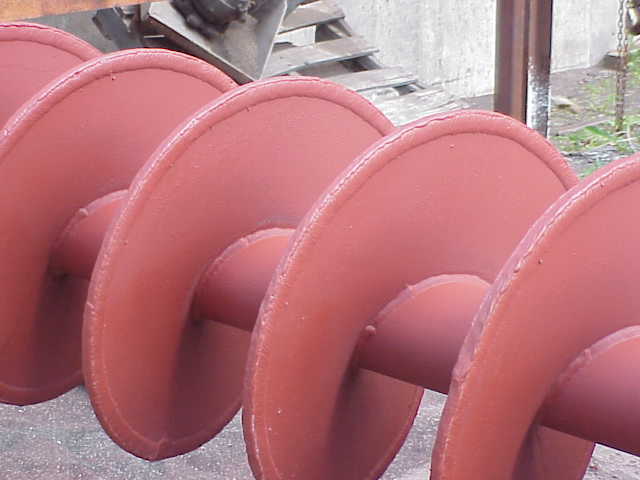 Postalloy® Flitewear 2
Postalloy® Flitewear 2 is a high carbon, chromium rich, molybdenum strengthened hardfacing alloy that produces a dense network of wear resistant chromium carbides in a tough alloy matrix. Recommended for applications subject to abrasion combined with moderate impact. It develops a very tight (3/8-1/2 inch) cross-checking pattern. It can be applied to carbon, low alloy, and manganese steels. Weld deposits can be used in hot wear applications up to 900°F (482°C).
Flitewear Hardfacing wires have been engineered to improve the efficiency and longevity of screw conveyors, augers, rendering screws and other similar components. They are designed with the OEM in mind, where environmental and production issues are unique. They offer excellent welder appeal and out-of-position welding capability. Bead configurations can vary from stringer to wide weave patterns. Welding arcs are smooth and quiet; smoke levels are extremely low; weld deposits are slag free and spatter-free.
Specifications
Product Type
Metal-cored
Gas-shielded
Open-arc
Deposits are slag-free
Applications
Foundation drills
Post-hole augers flight
Brick and clay augers
Hollow stem augers and auger flights
Weld Deposit Properties
Additional:

Deposits cannot be flame-cut
Deposits will check-crack to relieve stresses
Deposit Thickness:

2-3 Layers
Heat Resistance:

900°F (482°C)
Hardness:

55Rc - 60Rc
Welding Parameters
Current Type: DC Electrode Positive , DC Electrode Negative
| Volts | Amps | Diameter | Stick Out |
| --- | --- | --- | --- |
| 18-24 | 140-200 | .045" (1.2mm) | 3/4"-1"(19-25mm) |
| 22-28 | 170-300 | 1/16" (1.6mm) | 1"-11⁄4"(25-32mm) |
Welding Procedure:
When welding out of position, use .045 with reverse polarity and the lower range of amperages and voltages. Weld vertical down with 3/4"(18mm) wide weave beads. A gas cover will be helpful, especially when using a constant current power source and voltage sensing feeder.
Packaging Options
| Diameter | Standard Packaging | Standard Packaging Available |
| --- | --- | --- |
| .045" (1.2mm) | 25 lb (11.30kg) spool | 220 lb (99.80kg) drum |
| 1/16" (1.6mm) | 25 lb (11.30kg) spool | 220 lb (99.80kg) drum |